(Which I co-designed and built with Doug Privitt, my father)
First Launch - Redondo Beach, Ca.
Delta's goody bag containing
564 coins (all Double Eagles, $20 gold pieces).
That's my dad's hand holding the first recovered treasure.
This bag of coins were sold at auction for approximately $2.8M.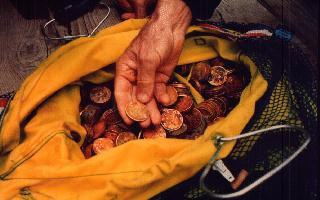 The legal battle over these coins went all the way to the US Supreme Court (twice 9-0). Sandra Day O'Conner wrote the second unanimous opinion (9-0), blocking the State of California claims over the coins.
Hang Gliding - Hang Gliding Pioneers
Camping
Rafting
Halloween Costumes
Skiing at Heavenly Valley- Lake Tahoe
SCUBA Diving
Carmel Golf Trip
Art - Ken's Art
Delta - The Submarine Delta Web Site
Submarine Design - How to design a submarine
Grounded vs. Ungrounded Electrical Systems for Use in Manned Submersibles - Marine Technology Society Journal, Fourth Quarter 1981 Vol. 15 - No. 4
California v. Deep Sea Research - Supreme Court Decision on the Brother Jonathan
Settlement with the State of California on the Brother Jonathan
Brother Jonathan - Treasure Web Site
Catalina Submarine Trip
UCLA - Bachelor's 1977, Masters 1980 in Engineering
Ex-Marfab Employee
Ex-Magnavox Employee
Ex-El Dorado Hills Music Owner
El Dorado Hills Music- Current Web Site
Ex-Intel Employee
IBTA - InfiniBand* Trade Association Web Site. I was a contributing author to Volume 2 of the InfiniBand Specification.
Intel Achievement Award