(Which I co-designed and built with Doug Privitt, my Dad)
First Launch - Redondo Beach, Ca.
The only known picture of the Brother Jonathan: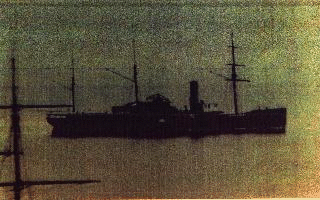 Gold Recovered from the Brother Jonathan:
This bag contains 564 coins (all Double Eagle, $20 gold pieces). That is Doug Privitt's hand holding the first recovered treasure from the Brother Jonathan (all from one dive). These coins were sold at auction for approximately $2,000,000.
In total 1207 coins were recovered, 200 went to the State of California, 1006 sold at auction for over $4,000,000 and one was donated to the Del Norte museum.
One of the $10 Gold Eagles sold at auction for $100,000.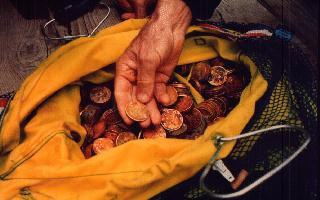 The encrusted $10 Gold Eagle in the lower right corner has been donated for display at to the Del Norte Museum in Cresent City, CA. The museum contains many of the artifacts recovered from the Brother Jonathan.
Hang Gliding - Hang Gliding Pioneers
Camping
Rafting
Skiing at Heavenly Valley- Lake Tahoe
SCUBA Diving
Carmel Golf Trip
Art - Ken's Art
Delta - The Submarine Delta Web Site
Grounded vs. Ungrounded Electrical Systems for Use in Manned Submersibles - Marine Technology Society Journal, Fourth Quarter 1981 Vol. 15 - No. 4
California v. Deep Sea Research - Supreme Court Decision on the Brother Jonathan
Settlement with the State of California on the Brother Jonathan
Brother Jonathan - Treasure Web Site
Catalina Submarine Trip
UCLA - Bachelor's 1977, Masters 1980 in Engineering
Ex-Marfab Employee
Ex-Magnavox Employee
Ex-El Dorado Hills Music Owner
El Dorado Hills Music- Current Web Site
Ex-Intel Employee
IBTA - InfiniBand* Trade Association Web Site. I was a contributing author to Volume 2 of the InfiniBand Specification.
Intel Achievement Award