The History of El Dorado Hills Music
Rentals l Lessons l Repairs l Sales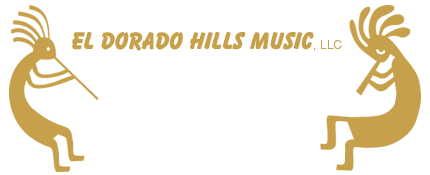 Click here to see the web site I created
Business Principle:
To provide for the community's and local school musical needs. The goal was not to make a big profit but to have a place to spend my time. If the business was "in the black", I was doing well....
What we offered:
Rental Instruments:
I expanded the Rental Instrument Inventory to include almost all the types instruments needed by the local schools.

Music Instruction:
I had five talented instructors: Cameron Carbrey, Leslie Feenstra, Erik Rose, Gabe Searles, and Dave Smyth.
They provided instruction for: Guitar, Bass, Drums, Piano, Clarinet, Saxophone, Oboe, Bassoon, Trumpet, French Horn, Flute and Piccolo.

Instrument Repairs:
I learned to repair most band instruments, guitars, drums and amplifiers. I had a reasonably stocked set of tools and parts (there is a special tool for almost everything and for each instrument).

Most repairs were done for free. It just didn't feel right to charge for an adjustment that took me only a minute or two to do (once I learned how to do it, I got pretty good and knew exactly what to do to get an instrument to play correctly)

Sales:
I carried most band instruments, instrument accessories, instrument supplies, maintenance supplies, guitars, drums, amplifiers, music books and sheet music.
Notable News:
During the two years I was running the store, it was broken into twice, even though we had an alarm system. Only once were items actually stolen (enough to outfit a rock band, we believe it was some local high school kids).
El Dorado Hills Music, Open for Business!, 11/17/2003
Trumpets and Trombones, We now carry the Getzen brand, 11/24/2003
Flutes, We now carry the Gemeinhardt brand, 11/24/2003
Piccolos, We now carry the Gemeinhardt brand, 12/18/2003
Guitars and Basses, We now carry the Yamaha brand, 12/21/2003
Guitar and Bass Amps, We now carry the RMS brand, 2/14/2004
Clarinets and Saxophones, We now carry the Vito brand, 3/4/2004
Clarinets, We now carry the Leblanc brand, 3/4/2004
Saxophones, We now carry the Yanagisawa brand, 3/4/2004
Oboes and Bassoons, We now carry the Fox brand, 3/4/2004
Drums, We now carry the Yamaha brand, 3/15/2004
Guitar Effects, We now carry the Yamaha Magicstomp, 7/20/2004
Violins, We now carry Hans Gerhart brand, 10/30/2004
Violas, We now carry the Bestler brand, 10/30/2004
Oboe, We now carry the Vito brand, 1/27/2005
Cornet, We now carry the Holton brand, 1/27/2005
Acoustic Strings, We now carry the Dean Markley brand, 2/2/2005
Acoustic Pickups, We now carry the Dean Markley brand, 2/2/2005
Village Life, Business Article on p. 17, 2/23/2005
Cellos, We now carry the Engelhardt-Link brand, 7/20/2005
Violins, We now carry the Lauren brand, 9/2/2005
Transferred Business to Paula Privitt, 10/1/2005
---