---
Douglas N. Privitt was born in Inglewood, CA in 1931. He grew up in rural Missouri, near the town of Osgood, on his parents farm. He was an entrepreneur from an early age and pursued his entrepreneurial dreams all his life. One of his first, was to build a glider to fly down the hill in front of his parents house (unknown if it ever was completed or successfully launched).
He graduated from High School on May 12, 1949 from Galt High School, Galt, MO. He achieved a high school education and never went to college.
(No one in the Privitt family had ever gone to college before, they were all farmers.)
What I find interesting is that while he obviously was mechanically talented and imaginative, he was probably not interested in his formal education (see his grades) and preferred to dream and invent.
We believe, Doug's first business was a machine shop and welding shop, which was next door to the gas station on First Street in Osgood, MO.
Osgood is off Rural Route 139 in north central Missouri. The building and lot (Lot 4 in Block 1, the light blue highlighted lot below),
was sold to him for $500 on April 3, 1952 by his parents Clarence and Oma.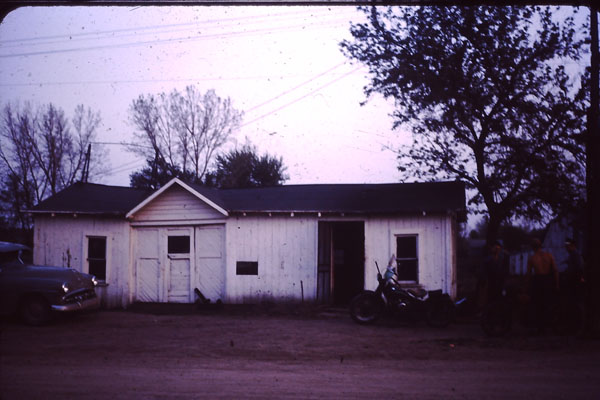 He partnered with the gas station owner next door to start J&P Oil Company (Johnson and Privitt) which was also a Junkyard.

The building by the telephone pole was the gas station (with the Coca Cola sign).

The Junkyard out back
Doug decided to try to find coal on his fathers farm (his father owned the mineral rights). So, with Donald Ray Woody (Jaunita's younger brother), they built a drilling derrick and drilled for coal. They did not find any. Coal deposits have been found in various locations throughout Missouri, so it was possible they could have found some.

The derrick by the barn on Clarence and Oma's farm. (that is Donald on top of the derrick).
His next business was a radio repair shop (in a shed next to his home in Osgood). It's unknown if he also fixed TVs. Later after he moved to California, as a side job he fixed B&W tube televisions at Swifty's TV Repair in Compton, near the Compton airport where he kept his Bellanca airplane.

Panning for gold in the California desert, approximately 1952
He moved to Inglewood, CA in 1956.
He worked as a tool and die maker at Research Tool and Die in Gardena, CA and eventually became the shop foreman. Research Tool & Die Works (RT&D) was founded in 1944 as a tool and die job shop.

That's Doug's 1957 Ford Ranchero in front of the building.
Motorcycle Racing
He started racing using an A.J.S.motorcycle (A.J. Stevens & Co), with number 341 as a member of the "Bogus" MC club, but never placed in any races.
We believe this is an AJS Model 16M 350 cc single cylinder motorcycle.
Members of the "Bogus" MC Club of Gardena, CA:
Doug Privitt, Keith Stack, Don Schu, Wayne Hudson, Bob Coss, Don Larson, Richard Newell, Bill Leonard, A.G. McInnis, Jerry Walden, Bill Hair, and Donny Thomason.

Back Row: Don Thomason, Keith Stack, Don Schu, Jaunita Privitt, Douglas Privitt
Front Row: Sally Tomason, Barbara Schu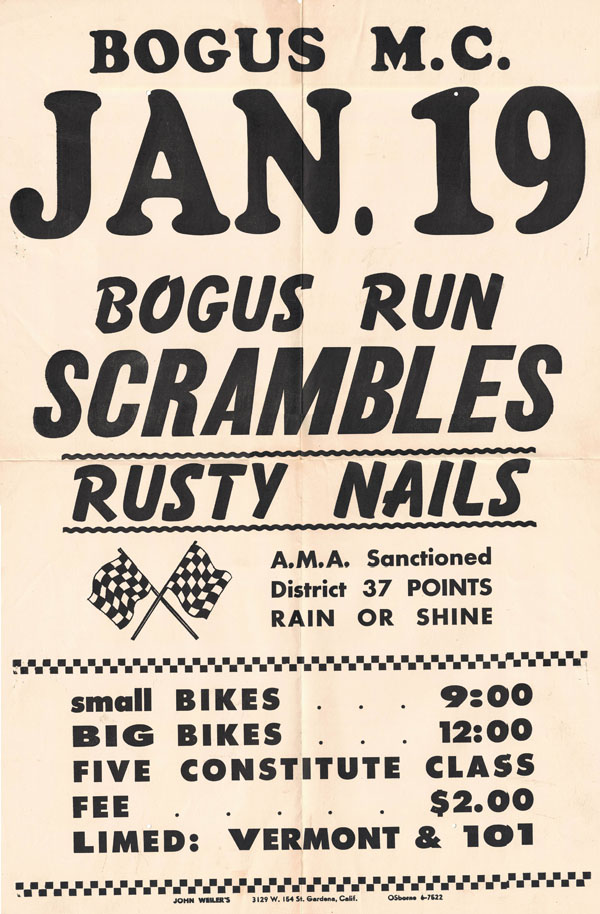 A poster for one of the many Scrambles races held by his club, this one at the Rusty Nails race track near Pasadena, CA.
He started winning "Scrambles", "Moto Cross" races, (now Motocross) riding a 1957 Bartali 125cc 2T motorcycle purchased new, still in the crate and needed to be assembled. He still has part of the original Bartali wooden shipping crate in his garage.
Moto Gino Bartali – Two Stroke Blitz (California History) – FORZAMACCHI

Douglas Privitt: Last of the Bartali Buzz Bombers - FORZAMACCHI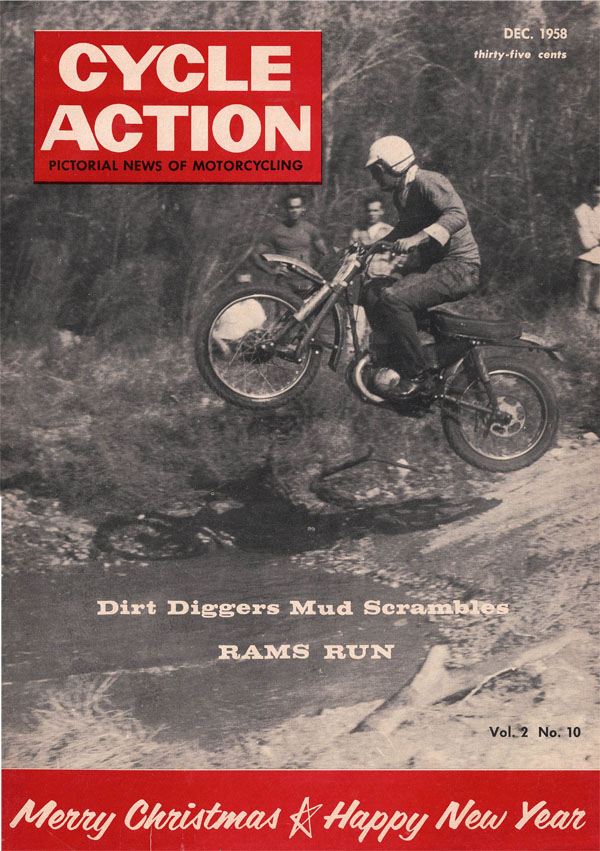 Known 1st Place RACE RESULTS:
L.A Scrambles 5.25.1958/ 1st Place/ 125cc
Jack Rabbits MC 7.4.1958/ 1st Place/ 125cc
PMC Acton Scrambles 7.17.1958/ 1st Place/ 125cc
SCMC TT Championship 8.16.1958/ 1st Place/ 125cc
Dirt Diggers Mud Scrambles 11.9.1958/ 1st Place/ 125cc
Diamonds MC Scrambles 12.7.1958/ 1st Place/ 125cc
Dirt Diggers TT/ 9.20.1959/ 1st Place/ 125cc
Dirt Diggers California State Championship/ 11.7-8.1959/ 1st Place/ 125cc
Triangle MC Southern California Scrambles 4.24.1960/ 1st Place/ 125cc
Gripsters MC Scrambles 12.1961/ 1st Place/ 125cc
Gophers Scrambles/ 1st Place/ 125cc
1959 125cc California Moto Cross Champion

California First Place 125cc Motocross Champion November 7-8, 1959
He raced for a number of years and quit in 1961. The story is that he quit after being run over by one of his own Bogus club members.
(we believe it was Keith Stack).

19 Racing trophies and Doug's Triumph TR6 motorcycle.

He chose a Triumph because the shifter is on the same side as his AJS and Bartali (on the Right).

He still has the 219 (Bartali) and 341 (AJS) plates (pictures above) from his racing days in the 1950-60's.
Doug's restored 1957 Bartali 125cc 2T motorcycle. The restored Bartali runs and is in excellent condition and is all original except it is missing the muffler.
The current exhaust pipe is a short, cut off one, that he used while racing.

Still riding his Bartali at 90 years old. You can see the "racing" exhaust pipe with no muffler.
Submarine Designer
Doug Privitt has designed and built submersibles for more than 60 years. His "Submaray", "Nekton" and "Delta" submersibles have logged over 12,000 dives off 5 continents and 30 countries. Doug began his submarine career in Torrance, California in the late 1950's.
Keith Stack, a fellow motorcycle racer, introduced Doug to Ed Armstrong, who had built a one-man sub, "Explorer". Doug became interested in submarines and started working with Ed.

The "Explorer"

Daily Breeze October 18, 1959: Click here for full size article
Aqua-Sub

Doug helped Ed build a second single person sub called "Aqua-SUB" in 1959.

Launched on October 22, 1960 in King Harbor, Redondo Beach, CA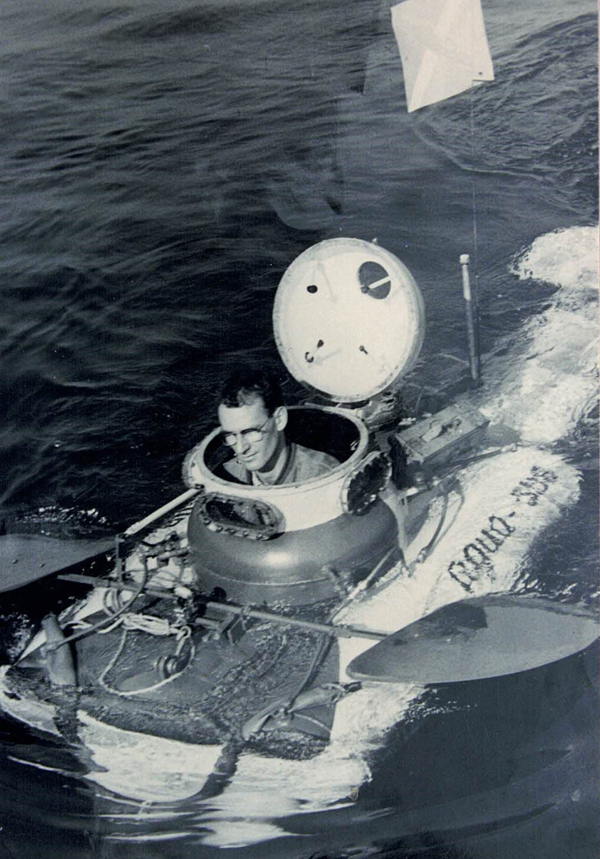 Magazine Articles

January 1962 True "One-Man Adventure in a Homemade Submarine" p._34-37_and_76-79
Sportsman DRY Sub
Next were the "Sportsman DRY Subs" (which had two conning towers) in the early 1960s. The Sportsman actually went into production at the Armstrong-Blevans Sportsman Dry Submarine, Co., Inc. It's unknown how many were actually built, but we believe it was at least five but possibly ten or more.
The cost was initially $3,600 then $3,800.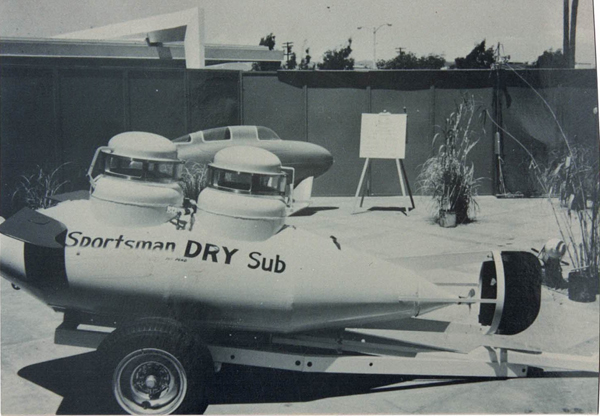 "Sportsman DRY Sub" Brochure, Skin Diver Magazine Ad, Business Card, Life Magazine, Mechanix Illustrated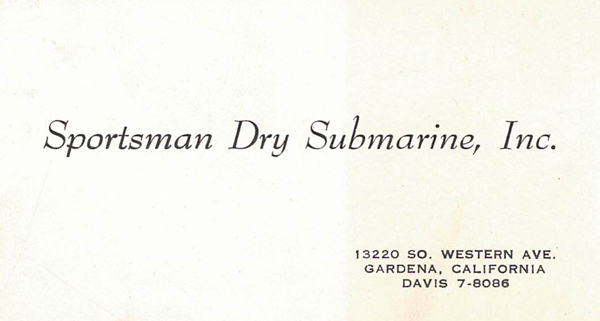 December 21, 1962 Life Magazine, "The Sea"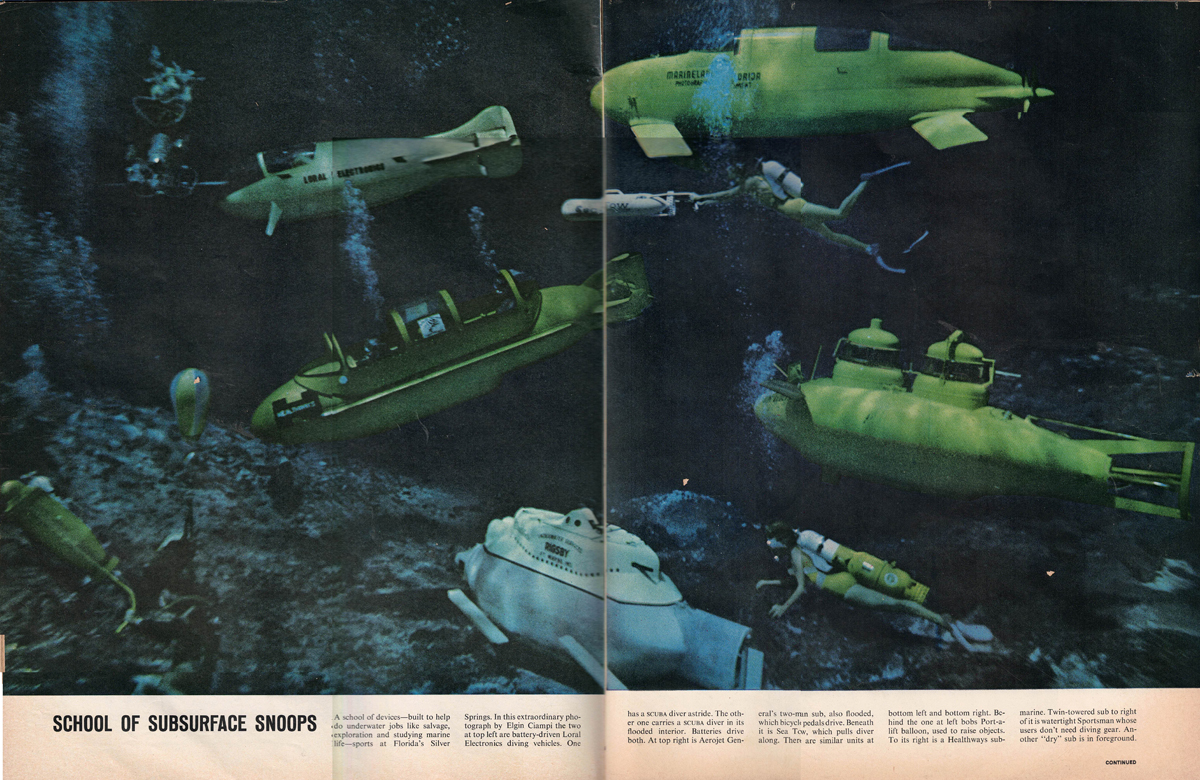 September 1962 Mechanix Illustrated, Fun with "Sports Cars of the Deep" p. 55
After working with Ed on several versions of his submarines he decided to build his own two-man submersible. Construction started in the back of Research Tool & Die Works where he worked as a die maker and shop foreman. Every submarine that Doug built always started as a cardboard mock-up to see how it "felt"; was it comfortable; did it provided good viewing, etc.
"Dolphin"

Doug's calculations for the 36" diameter 3/8" thick hull and 24" diameter 1/4" thick conning tower.
This seems to be essentially the simple Hoop Stress formula.
Simple Hoop Stress calculations:
Hoop_Dolphin_Hull_MC2000
Hoop_Dolphin_Conning_Tower_MC2000
Circular Plate Simply Supported and with Clamped Edges, Uniform Load calculations:
Port_Dolphin_MC2000
Both the hull and conning tower will fail at approximately 1500 ft., well above the "rated" depth of 300ft.
(the depth Mart Toggweiler chose to advertize as its rated depth)

1957 the "Dolphin" cardboard mock-up and parts under construction, the white conning tower is the forward hull from Ed Armstrong's "Explorer".
The "Aquasub" placed it's ballast tanks on the side of the sub, this was a little unstable, but workable if you were cautious. Initially the ballast tanks were tacked in place on the side of his new sub as well, but Doug changed his mind and decided to put them on the front and back. By having a greater separation, he theorized that it would make the sub more stable. This started a dispute between Ed and Doug and the two separated and stopped their submarine building collaboration.

The out of pocket cost to build Dolphin was $753.98

"Dolphin" initially with side ballast tanks

"Dolphin" with forward and rear ballast tanks

Hitching up the "Dolphin" to the Ford Ranchero behind Research Tool and Die for it's first dive.

The two-man "Dolphin" was launched in October 1961. at the Pierpoint Landing boat hoist, Long Beach.

The "Dolphin" and Mart Toggweiler on the stern of the Maray
At 14 feet long and 3,200 lbs., it could dive to a maximum depth of 300 feet. The "Dolphin" was sold to Martin Toggweiler, on November 1, 1962, who changed its name to "Submaray". It was a play on words and was named after Mart's boat the Maray.
"Submaray"
Submaray was drop tested to 500 ft. at Catalina on December 1, 1962. However, Mart limited it to a depth of 300ft.
HydroTech "Submaray" Marketing Brochure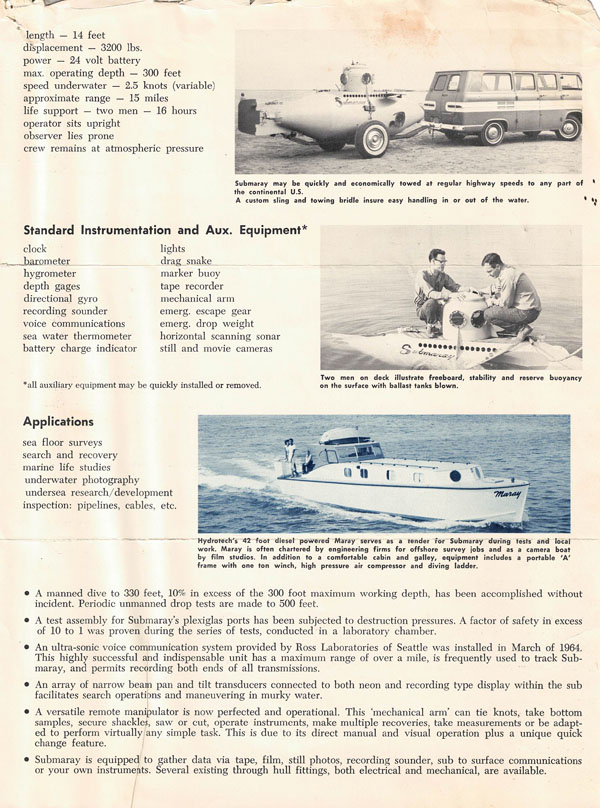 1962_How_to_Build_Your_Own_Underwater_Camera_Housing, Mart Toggweiler, p.1-4 book, .PDF
1962 Mart Toggweiler: how to build your own UNDERWATER camera housing - S04E04 - YouTube video
Click here to watch the HydroTech, Co. promotional video on the "Submaray"
The Dry Divers - YouTube video, A Mart Toggweiler film by HydroTech, Co.
Click here to read Mart Toggweiler's book "The Dry Divers" (annotated by Kenneth Privitt)
The Dry Divers - Mart Toggweiler book, An unpublished book by Mart Toggweiler


1963 Doug SCUBA diving at Avalon harbor on Catalina Island
Mart Toggweiler and Doug Privitt bid on this U.S. Navy Purchasing Office request for quote (RFQ).
They never heard a direct word on the outcome, but they lost the bid.
Much later Mart learned that another submersible had been shipped to the Enewetak Atoll and was not altogether successful.
1962_11_16_Underwater_Search_Vehicle_Contract .PDF
Hollywood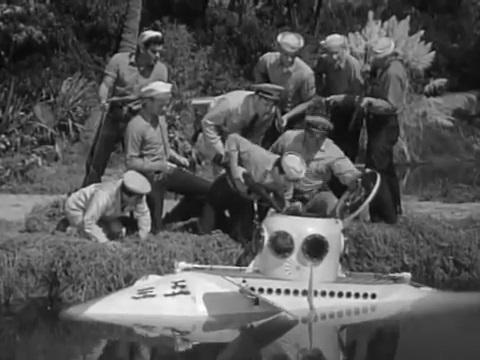 McHale's Navy Season 2 Episode 16: "The Creature from McHale's Lagoon" December 31, 1963
Click here to watch: McHale's Navy S2E16 - The Creature from McHale's Lagoon - YouTube video

February 1964 Dive Magazine, "Sub" p. 22-28

The "Wackiest Ship in the Army" TV Series:
Wackiest Ship in the Army Shakedown Series Pilot - YouTube TV Show Pilot

Season 1, Episode 1, "Shakedown", Released on September 19, 1965
The "Kiwi" was a scow (a flat-bottomed schooner) that was on a secret mission in waters patrolled by Japanese warships.
In the pilot, the Kiwi is hit by a dud torpedo and captures a Japanese submarine.

1966 December, True Magazine p. 16 - Doug with Jon Lindeburg in the Submaray
As of June 1967 the Submaray had logged 425 dives.
This is the last known picture of the Submaray. It is unknown when Mart sold Submaray to Lacy Johnson of Wilmington, NC.

( The water looks very murky on the lake and they were likely not able to see the bottom from any of the ports)
"Submaray" current condition:
It's last known owner was Phil Nuytten and located at Nuytco Research, Ltd. Vancouver, Canada.
Phil purchased it to be included as part of a submarine museum that he was collecting for.
It was reported that, while welding on the hull's battery box the hull was warped and it was no longer diveable.
We suspect this could be repaired, but the current operational status is unknown.
Current owner is unknown, Phil Nuytten passed away in 2023.
"Nekton"
"Nekton" refers to the actively swimming aquatic organisms in a body of water. It was called Nekton because a submarine is free swimming.
In the mid 1960s, a group of geologists from southern California who had been using the Submaray, asked Doug to build a two-man submersible for them that could dive to a depth of 1,000 feet.

Jim Vernon, a geologist, in the "Submaray"

At the time Doug was currently working at C & D Tool & Mfg. which was a machine shop and a partnership with his nephew Craig DeWeese. The geologist group created General Oceanographics and hired Doug as the VP of Engineering and financed the project to begin construction.
Again "Nekton" started with a cardboard mockup.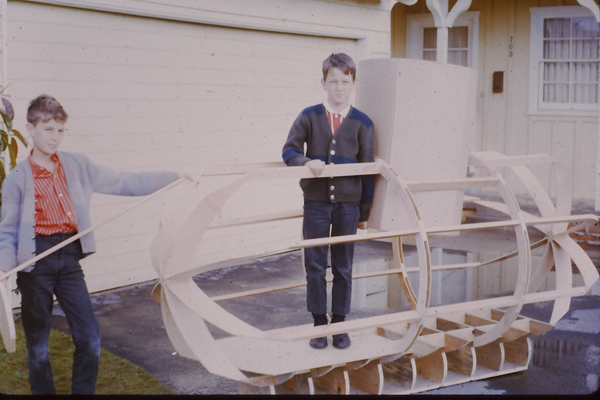 Doug and Craig with the help of Jim Vernon, the president of General Oceanographics, designed and built "Nekton".

Model testing to verify its capability to dive to 1000 ft.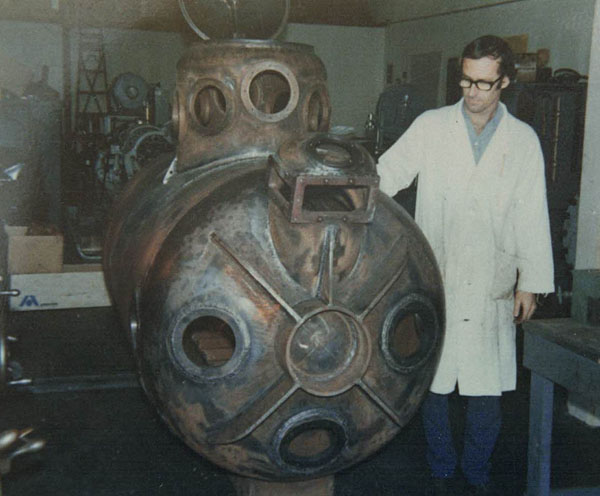 The innovations besides the increased depth (1000 ft.) included more ports and a small conning tower for the observer. The observer conning tower did not work very well (your breath caused the ports to fog up and you couldn't see anything).
The observer conning tower was not included on any subsequent submarines.


In 1968, it was tested to 1,500 feet (it just fit in the chamber) at the US Navy engineering facility in Port Hueneme.
NAVBASE VENTURA (DEEP OCEAN LAB) PORT HUENEME CA NAVFAC 72" EQUIP TEST VESSEL 5,500 psi
"Nekton" Launch in 1968
"Nekton" began diving off California, Hawaii, Alaska, and Michigan including the investigation of the Santa Barbara oil spill and in the rescue of the submarine Deep Quest off San Diego.


1968 TV Series: The Undersea World of Jacques Cousteau, Episode 11, "Those Incredible Diving Machines"

1/8/1968 The Undersea World of Jacques Cousteau: Episode 11 "Those Incredible Diving Machines" – YouTube video
In this episode Cousteau claims to have found a ship wreck. The wreck's location was already known by the Nekton team. Cousteau's team was actually taken to it by Nekton Alpha, unfortunately they took the ships anchor off the wreck and brought it up. When they left, they simply dumped it back in the ocean never to be seen again. Cousteau was not the incredible explorer or environmentalist he portrayed himself to be.
Cousteau's mini-subs the "Sea Fleas" used ballast weights to surface. An expendable drop weight was used on every dive to become positively buoyant, like discarded trash polluting the sea floor. Nekton Alpha recovered several of them and gave them back to be "recycled". Doug commented that is was like they carelessly left turds scattered across the ocean floor.

1969 Santa Barbara Oil Spill


On January 28, 1969, a blowout on an offshore oil drilling rig 6 miles off the coast of Santa Barbara led to the release of over 4 million gallons of crude oil into the Pacific Ocean. The source of the spill was a blow-out on Union Oil's Platform A in the Dos Cuadras Offshore Oil Field. The spill ultimately spread across 800 square miles, creating a 35-mile-long slick and coating some 100 miles of mainland California and Santa Barbara Channel Islands coastlines in a black, viscous goo. "Nekton" was used to see the actual blow out's location and estimate the seep rate.
Rescue of the Deep Quest, October 7, 1969
Deep Quest intended to demonstrate its ability to retrieve heavy objects, such as a torpedo, from the seafloor. Its support vessel, Transquest, would lower to the seafloor a cylindrical, metal tube, like a corrugated culvert, filled with concrete. Deep Quest would find it and bring it up. Transquest lowered the cylinder by a one-half-inch polypropylene line. When the cylinder was at the bottom they planned to retrieve the line. Apparently they were unable to pull the line loose because it became snarled at the cylinder. Deep Quest attempted to pick up the cylinder with the line still snagged. While maneuvering, a propeller sucked the line in, tying Deep Quest to the cylinder.
One puzzling question is: If they were planning to bring it up all along, why didn't they just surface? They must have had enough ballast to raise it with whatever method they originally planned to attach to it.
We were told the Deep Quest could have surfaced, but with the cylinder attached to its stern it would have come up vertical and would create an uncomfortable orientation for the crew (their seats would have been attached to the "wall"). After considering their options they called for help. There is an implicit agreement between all submariners that if you get a call, you will drop whatever you are doing and immediately go assist with the rescue.
Jim Vernon (president of General Oceanographics) was informed around 8:00 p.m. The sub was located in Gardena, CA. Jim asked: "Is Nekton ready?" Doug responded: "No, it's spread out all over the shop. Craig and I are putting her back together as fast as we can." It took an hour and 45 minutes to get "Nekton" ready and on the trailer for the drive to San Diego. It was in the water above the Deep Quest at 2:25 a.m. and reported it could see lights from the trapped sub 25 minutes later. It cut the offending line with a divers knife taped to the mechanical arm at 3:21 a.m freeing Deep Quest to surface. The whole ordeal took about 15 hours, it was reported that Deep Quest had 33 hours of air remaining.

Craig attaching a dive knife with electrical tape to the mechanical arm, which was used to cut the line freeing Deep Quest.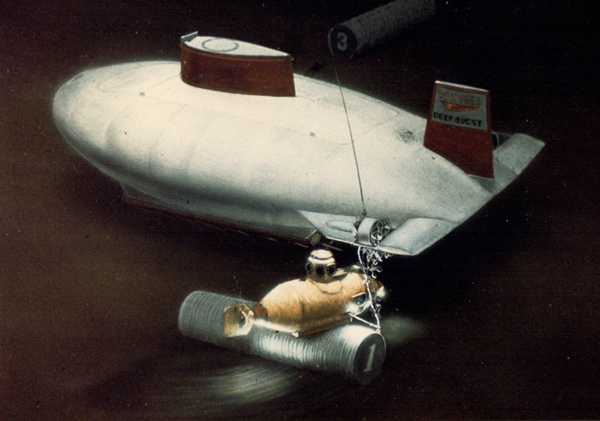 This is a piece of the actual rope that was cut to release the Deep Quest
Following "Nekton's" success, Doug built two additional submarines "Nekton Beta" and "Nekton Gamma" for General Oceanographics that were launched in 1970 and 1971 respectively. With now three submarines they renamed the original "Nekton" to "Nekton Alpha".
The difference between Alpha and Beta/Gamma was the forward conning tower was removed and replaced with forward looking ports inside the ballast tank. The basic hull design was unchanged and the all were capable of diving to 1000 ft.
Nekton Beta Accident
1970_September_21_Nekton_Beta_Accident
- .PDF, excerpt from "Views from the Conning Tower" by Richard A. Slater, Chapter 5.
Rich Slater's book describing his submarining career and Guiness World Record:


Amazon.com: Views from the Conning Tower: The Adventures of a Deep-Sea Explorer : Slater, Richard


Growth and Submarine Fossilization of Algal Cup Reefs, Bermuda research paper, November 1, 1973, R. N. Ginsburg, Johannes H. Schroeder
Click here to watch Nekton Beta being used for coral research off Bermuda.
The Nekton Submersibles, General Oceanographics - YouTube video
At the Isthmus of Catalina Island, off of Bird Rock, is a sailing ship wreck in over 200 ft. of water. Several artifacts, including many portholes, were recovered from the wreck. This is the wreck from the 1935 movie the Mutiny on the Bounty. The Bounty replica was burned and sunk as part of the movie.

Mutiny on the Bounty (1935) - IMDb Actor James Cagney was sailing his boat off of Catalina Island, California, and passed the area where the film's crew was shooting aboard the Bounty replica.

Artifacts from the sailing ship wreck, from the 1935 movie Mutiny on the Bounty.
Most of the wood from the wreck is now gone and it is mostly a large pile of ballast, with some artifacts. To generate business General Oceanographics would give demonstration dives for clients at the Isthmus of Catalina Island. Doug found an old trunk lid at the swap meet and decided to build a "Treasure Chest" and planted it on the wreck. During the client dives they would casually drive past the planted treasure chest. The client would see it and exclaim "Stop" but they just continued on past. Then they would tell them that they had been had. The tell tale sign was the rope handle that would have been disintegrated long ago.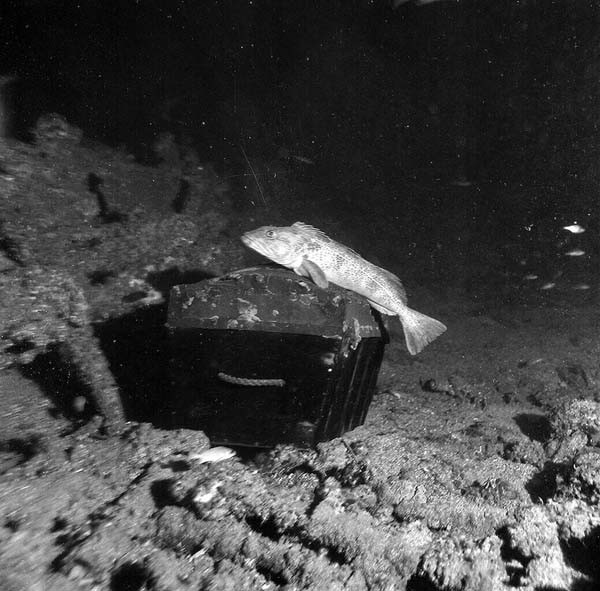 1971: The "Treasure Chest" is no longer there, we suspect it was taken by SCUBA divers.
April 1972 Dive Magazine, Volume 5 Number 4 "The Nekton Submarines" p. 60-61

1972_April_Dive_Vol_5_Num_4 article, "The Nekton Submersibles", p.60_61

"Nekton Beta" diving in the Mediterranean Sea near the Rock of Gibraltar
"Hang Gliding"
Doug found an ad in the back of a Popular Science magazine for plans of a "Hang Loose" glider that cost $3.00. He sent in his money and received the plans. Doug contacted Jack Lambie and he gave us directions to where his crashed Hang Loose was located.
"Directions to go see the Hang Loose -- Go down the San Diego Freeway to the La Paz off, turn right and go down the road about 2 mi. on the right you will see a strange building in the shape of a pyramid, on the left on top of a hill there is a red barn it is behind the barn. To get to the barn on the first street make left turn go up the road you will find a side road with a chain across it walk up the road."
We went there to take a look at the original hang glider.


Doug and Ken built their version with some modifications: we used pine strips for the ribs instead of bamboo that was indicated and included a wedge to create more of an airfoil and hopefully give it better lift and started building. Doug received a call that there was going to be a gliding meet in Irvine, CA. so we finished up our glider and tested in the street in front of our house. We pushed it along and it would generate enough lift to get the pilot off the ground. So, with little to no experience flying it , we packed it up and took it to the meet. We named ours the "Swing Low". When we got there we found out it was the " Otto Lilienthal Universal Hang Glider Championships".
May 23, 1971 Universal Hang Glider Championships at Irvine, California

Hang Gliding History article,



Every flight resulted in a crash, which were sometimes severe. So, we would just take it back down the hill, patched it up, waited for the glue to dry, and took it back up to the top of the hill for the next short flight.

Our last flight of the day, and as usual, resulted in a crash.
1971 Hang Gliding at Torrance Beach, Californi
a


Ken rebuilt the "Swing Low", reinforced all the prior breaks, gave it a new paint scheme, and renamed it the "Phoenix" (since it was resurrected from the ashes).

"The Phoenix" in September 3, 1971 Life Magazine: "The Endless Weekend" A Special Issue
National Geographic Magazine Vol. 141 No. 3 February 1972: "Happy Birthday Otto Lillienthal!", P.286
That is the "Swing Low" Hang Glider being repaired (towards the back next to the cars)
1972 J.J. Montgomery Second Universal Hang Glider Championships, San Diego, California

The highest flight of the "Phoenix" (Ken).
Hang Gliding Excerpts from the movie "Playground in the Sky" by Carl Boenish

1972 Palos Verdes, CA

The longest flight of the "Phoenix" (Ken).
The "Swing Low"/"Phoenix" made a total of 167 flights before it was destroyed (it was just too big to store in the garage)

1972 Manned Powered Airplane based on the "Hang Loose" design with tricycle undercarriage and propeller, Gardena, California


Doug in the pilot seat, Ken in the pilot seat with one wheel off the ground (a picture from Low & Slow issue #13, p. 10-11)
The propeller was hand made. We used the 1962 Puffin propeller design as the basis of our propeller, but we adjusted the diameter to fit our plane. From the Puffin propeller we had the angles and thickness at various places along the blade. We made our propeller using a hand saw, disk sander and a jig to hold each of the four sides while we were cutting. We used another jig to measure each stations angle and thickness, if it was off we sawed/carved/sanded off some wood to eventually make it a rectangle with the proper angle and thickness. We blended it between the stations. Once we had the proper twist, we marked it at 1/3 and hand cut a Clark Y airfoil shape using the disk sander.

1974_May_Popular_Science article, p. 98 "How they're engineering a whole new breed of HANG GLIDERS"
Lobster Dinner

1976: Rich Slater with an 18 lb. lobster caught off Atlantic City, NJ
"Nekton Gamma"

1980 Nekton Gamma exploring coral reefs
July-August 1985 Sea Frontiers, Volume 31 Number 4 "Natural Seeps: Unwanted Oil and Gas Production" p. 226-235

1985_Sea_Frontiers_Vol_31_Num_4 article, "Natural Seeps: Unwanted oil and gas production"
General Oceanographics "Nekton" Brochure
"Nekton Alpha" current condition
When General Oceanographics was dissolved, Nekton Alpha was sold.
Later, it was purchased by SeaHorse Submersibles, Inc. and used for a number of years to inspect the intake and outfall tunnel of a nuclear plant in New York. They installed the guard rails, wheels and extra thrusters, presumably to protect against bumping and rubbing against the outfall tunnel in dirty water.
It was then put up for bid on eBay in Worcester, MA on October, 7, 2006, but did not sell because the reserve was not met. The last bid was for $100,100.
It was then in a wreckers yard in New Hampshire, owners and location unknown.

In May 2023 it was purchased by River Dolfi and is now located east of Washington, D.C.
For it's age it is in remarkable condition and is being fully refurbished with a few upgrades (Lithium batteries, lighter and more power) and will be placed back in service.
"Nekton Beta" current condition:
The location and owner of "Nekton Beta" is unknown. It is suspected it was destroyed and sold as scrap metal. But one rumor says that it is still around, but that person has died without revealing it's location.
"Nekton Gamma" current condition:

"Nekton Gamma" as it is today.

Hank Pronk restored and made several "improvements" to "Nekton Gamma". The forward and rear ballast tanks were removed and placed on the sides. A spherical port was added at the front (spherical ports have significant distortion compared to a flat port). An escape pod was added, and two vertical thrusters were added to provide depth control/keeping. It was sold and is now somewhere in the San Francisco Bay area. Owner and location unknown.
Nekton Gamma Submarine Tour With Homemade Escape Pod - YouTube video

"Delta"
It took approximately six years for Doug and his son Kenneth Privitt to design and build the "Delta" submersible at MARFAB in Santa Ana, California. Design started in 1976 while Ken was in the BS Engineering program at UCLA and was launched in December 1982. Ken used a General Automation Spec-16 computer which he built with the help of Greg Atkins and Mel Jones of A.J Computer, located at Langford Machinery a few doors down. The computer had 16K of core memory and the calculations were programmed using the Fortran programming language under the General Automation DBOS (Disk-Based Operating System). Since the design calculations were the last thing we ran on the computer, the program is still in the core memory card, which Ken saved as a memento. We called this submarine "Delta" because we could not use "Nekton", it was owned by General Oceanographics. So we just used "Delta" to continue the prior "Nekton" numbering sequence (Alpha, Beta, Gamma...Delta).
The sole proprietorship company that Doug and Ken made a living from was called MARFAB, short for Marine Fabrication, located in Santa Ana, CA. We worked during the day refurbishing machine tools (bought at auction or from a machine shop that went out if business, always at a very good price) for sale at Langford Machinery (a few doors down on Grand Ave.) We would cherry pick any machines that we did not have and repaired them for ourselves. Marfab was outfitted with a complete set of every type of machine. Even multiple sizes of the same type of machine. We literally could make anything with the machines and tools we had. At night (after 5:00 when Langford Machinery closed) we worked on "Delta", sometimes until late in the evening. One evening we worked until about 2:00am, we had started welding one of the main battery box seams and once we started, we had to complete it while it was still hot.
That's Doug's Brown Honda Civic which he drove for over twenty years (which made it a Classic)
The Logo was designed by Robert Kingston when he was living in Venice, California. The name is under the waves to indicate the company's under water capabilities.
Construction on "Delta" began around 1976.
The structural design, port design, electrical system, life support system, motor and propeller design was done by Ken using his engineering knowledge gained as a graduate (BS/MS) of UCLA's School of Engineering. Doug and Ken constructed most of "Delta's" supporting equipment including the underwater communications and tracking systems, transducers, the mechanical and hydraulic arms, the submersible lights and the camera housings. Delta included an additional right-side port and a center forward looking port for the observer in the forward ballast tank. A total of 19 ports, which provided excellent visibility, better than all the previous subs. "Delta's" targeted depth was increased to 1320 ft of sea water (1/4 mile). It can go deeper in fresh water. This depth was selected because 1/4 mile covers 80% of the Continental Shelf and would provide a sufficient number of clients that would be interested in leasing the sub.
Submarine Design - How to design a submarine
Several scale models were made and tested to destruction to verify the calculated design depth. It was somewhat with a heavy heart when we put them into the pressure chamber to crush them, since one had taken us over two months to make, within 0.001" tolerance on the dimensions (as close as we could make/measure it).

Crush depth of each model (respectively):
2793 ft. 2838 ft.
2763 ft. 3086 ft.
2882 ft. 2725 ft.
3041 ft. 3625 ft.


The internal rings were made as a "T", to increase their stiffness and to decrease their weight.


"Delta" cardboard/sheet steel mockup. Every sub started with a mockup.

Construction progress in 1980.
We placed .100 deep holes all along the bottom plate of the Battery Box (the holes in the red spots). The plate was made .125" thicker to compensate for this. These would be used in the future to measure how much wear occurred as the sub was moved about and the plate would wear with the friction across the floor.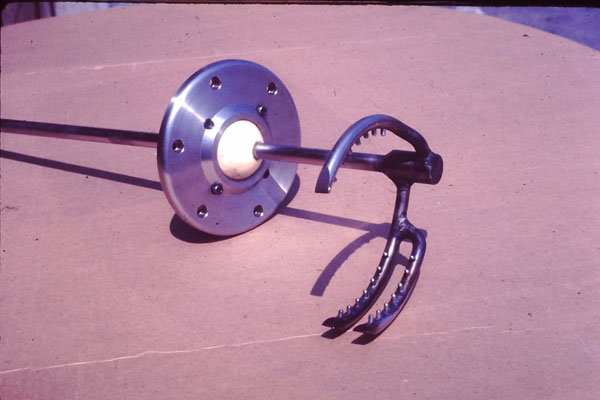 (Doug, Ken and Jim Vernon)
"Delta" Artwork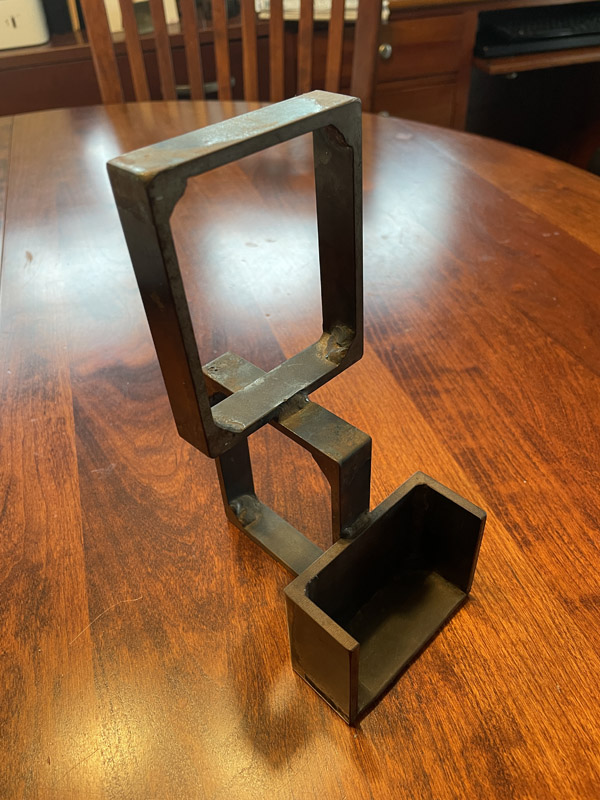 "Cubic" by Ken Privitt 1981, made from the Delta Battery Junction Box that was redesigned and scrapped.

"Pegasus" cut from a port that was tested to destruction.
Construction progress in 1982.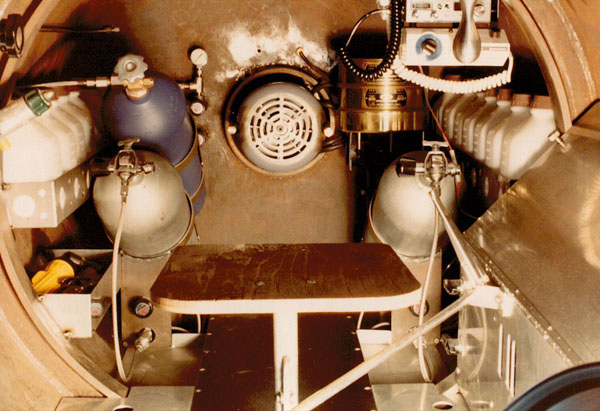 "Delta" Testing and Launch



"Delta" was tested at the Navy Hydrostatic Test Chamber, Port Hueneme California (the same facility where the "Nekton"s were tested)





We designed "Delta" it to just fit into the 72" diameter pressure chamber with about 3" clearance (without the hatch, with the hatch it would not fit so we tested it separately). Delta was completely filled with water and a hose connected to the outside of the chamber. When external pressure is applied and the pressure vessel is compressed, water (which is incompressible) would be extruded out the hose. We plotted the applied pressure against the water displacement. It would be linear until the metal started to yield (bend and move) and the graph would begin to bend down, indicating that the material was actually yielding. This was not something we wanted since it could damage the sub and all the work we had put into it. So, to prevent this the sub was filled with water to prevent it from collapsing. Also. since we only tested to 1.5 times the rated depth, we never came close to yield and the graph was always straight line and "Delta" was never in danger of any damage.



"Delta" was completed and tested shortly before Christmas 1982.


"Delta" was launched in Redondo Beach Harbor on December 21, 1982.

"Delta" ready to launch
The definition of a submarine: the weight of the submarine must exactly offset (equal) the weight of the water displaced.
< If it is less, it is a boat and will float on the top of the water (and cannot sink).

> If it is more, it is an anchor and will sink to the bottom.

= If it is equal (Goldilocks, Just Right), it can freely glide up or down in the water and will stay put when stopped (not drift up or go down).
Three attempts were made to get "Delta" submerged:
1) For the first attempt the calculated correct amount of lead weights, Weight and Displacement calculations, was loaded (additional lead was brought, just in case), but approximately ¾ of the Conning Tower was still out of the water with both ballast tanks empty.
2) The volume and displacement weight of ¾ of the conning tower was estimated and all the available lead was put in, but approximately 10" of the Conning tower was still above the surface.
3) With no additional lead to use, the steel jack from the Dunkle Brothers Machinery Movers truck was put in, Delta finally went below the surface to a depth of 15 ft. The dive lasted 15 minutes.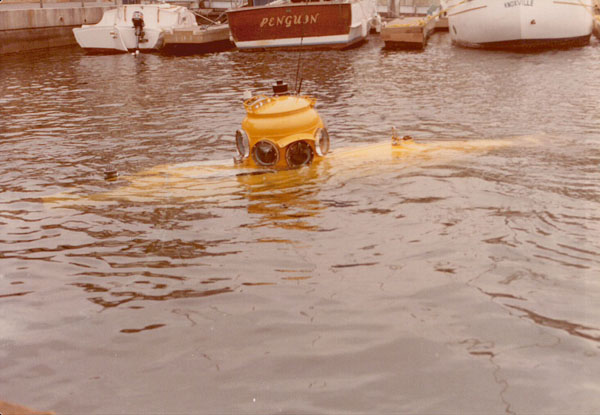 The first try, Oops.

The second try, Oops, Oops.
In operation we target the sub to be about 50 pounds negative, so it will sink but still be close to neutral buoyancy. When the pilots and observers are swapped out after a dive they must be weighed and the difference in weight be brought in ( lead bars) or taken out of the sub.

The first "real" dive was 140 ft. at the Isthmus of Catalina Island. Doug and Ken ran a check of all the systems, and everything worked perfectly. As we were moving along, I exclaimed "there is a large lobster", Doug said use the arm and try to catch it. I carefully moved the arm behind the lobsters' head (this is the best place to catch them, which I learned from snorkeling and catching them by hand) but I slightly bumped the lobster as I was trying to grab it, and it "squirted" away. I said, Damn I missed it, and Doug said that's OK, there are plenty of them, so we traded places and Doug (who had caught lobsters with the Nekton's arm) picked the biggest one and caught a 5 lb. Lobster. That day we caught four lobsters and one abalone, which we ate for dinner that night.
"Delta" aboard Don Siverts boat the Mother Goose at the Isthmus at Catalina Island.


"Delta" is 15 1/2 feet long, weighs 4,800 lbs., and can dive to a maximum depth of 1,200 feet (this was reduced from 1320 by the ABS because of a temperature dependency of the steel). "Delta" has logged over 6,700 dives worldwide, with no dive days lost except to bad weather, and has a perfect safety record.
Click here to watch the Delta Oceanographics, Inc. promotional video on the "Delta" Submersible
The Delta Submersible, Delta Oceanographics - YouTube video
"Delta" Brochure
How to operate a submarine: Delta_Operation_Manual
"Delta" Research Papers, Magazine Articles, Documentaries, TV Episodes, etc.
1988 High Risk Episode 6
High Risk Episode 6 - Netflix video, November 15, 1988 (You can view this if you have a Netflix Account)
Excerpt from High Risk Episode 6 - YouTube video
1990 Enewetak Nuclear Bomb Craters
Underwater Research Methods for Study of Nuclear Bomb Craters, Enewetak, Marshall Islands (uri.edu) research paper
Sea-floor observations and sub bottom seismic characteristics of OAK and KOA craters, Enewetak Atoll, Marshall Islands (USGS) research paper
1993 Brother Jonathan Discovery
The S.S. Brother Jonathan was a steam paddle wheeler that set sail from San Francisco to Anchorage, AK on July 28, 1865. It struck an uncharted rock (now called Brother Jonathan Rock) near Point St. George, off the coast of Crescent City, CA, on July 30, 1865. The ship was carrying 244 passengers and crew, with a large shipment of gold. Only 19 people survived, making it the deadliest shipwreck on the Pacific Coast of the United States. Based on the passenger and crew list, 225 people are believed to have died. It was carrying: the annual treaty payments in gold for Indian tribes, Wells Fargo shipments consigned for Portland and Vancouver, U.S. Army payroll, and gold carried on board by the passengers. The gold alone (not the rare coin value) is valued at $50 million in today's dollars.
On October 1, 1993 the Brother Jonathan was discovered off Crescent City, CA by Don Siverts in the submarine Snooper near Crescent City, CA.
Brother Jonathan Ship History
The only known picture of the Brother Jonathan:
1993/4 National Geographic - Last Voyage of the Lusitania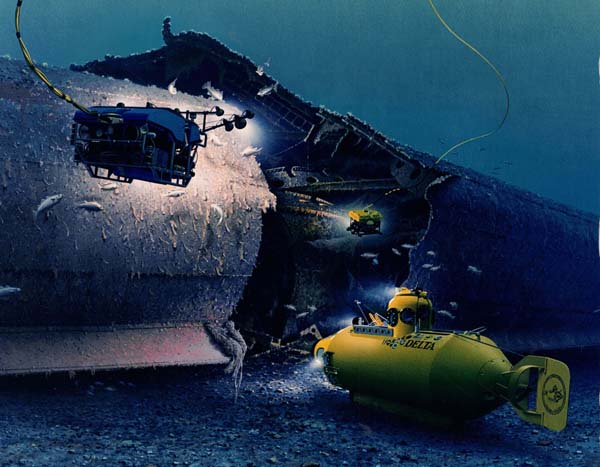 Paintings by Ken Marschall, 1993

Last Voyage of the Lusitania - YouTube video, April 10, 1994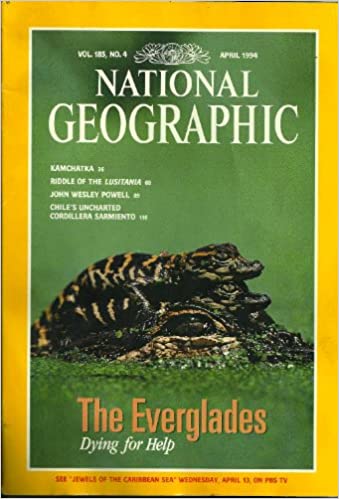 National Geographic, Vol. 185, No. 4, April 1994, p. 68-69, "Riddle of the Lusitania"

Slit shell snail Perotrochus quoyanus recoved off the east coast of the US
A "Living Fossil" For Your Aquarium - The Slit Shell Snail (reefs.com)
1994 Tanner Crabs
1994 Aggressive Mating of Tanner Crabs, Chionoecetes bairdi (researchgate.net) research paper
The Secret Life of Crabs - YouTube video
1996 Brother Jonathan Treasure Discovery
On August 30, 1996, "Delta" found 875 gold coins from the 1860s in near-mint condition. Over time, the salvors recovered 1,207 gold coins, primarily $20 double eagles.
Notice it took three years to obtain the salvage rights.
Gold Recovered from the Brother Jonathan:
These coins were sold at auction for approximately $2,000,000.
One of the $10 Gold Eagles sold at auction for $100,000.


Delta and Snooper aboard the Cleverly


Doug and Don Siverts with their subs


This bag contains 564 coins (all Double Eagles, $20 gold pieces).
That is Doug Privitt's hand holding the first recovered treasure, which is worth approximately $2.8M.

The coins were MS 65, MS 66 and MS 67 (MS = Mint State)
In fact they were all essentially as if they were "just made", they were still in the original oil-paper rolls from the mint and had never been circulated.


They recovered the Purser's safe.

They had visions of opening it on the Geraldo Rivera Show (TV Series 1997-1998), like he did live for the Al Capone vault.
They had hoped it would contain $5M in gold coins, but it only contained a wool blanket, one coat, and a purser's hammer.
After the discovery, Deep Sea Research (DSR) went to Federal court to obtain salvage rights for the Brother Jonathan.. This started a long legal battle with the State of California. Resulting in seven consecutive rulings against the State of California: the Federal District Court (three times), the Ninth Court of Appeals (twice, 2-0 and 3-0), and the US Supreme Court (twice both 9-0).
California v. Deep Sea Research - US Supreme Court second decision on the Brother Jonathan
Settlement with the State of California on the Brother Jonathan

It is ironic that after considerable expense on both sides that the settlement with the State of California was for 20% of the gold coins that were found. This was less than what DSR had been originally offered to settle with the State of California and begin the salvage. Multiple millions of dollars in legal fees were needlessly wasted..
In total 1207 coins were recovered, 200 went to the State of California, 1006 sold at auction for over $4,000,000 and one was donated to the Del Norte museum.
The encrusted $10 Gold Eagle in the lower right corner has been donated for display at to the Del Norte Museum in Cresent City, CA. The museum contains many of the artifacts recovered from the Brother Jonathan.

Brother Jonathan - Treasure Web Site


Amazon.com: Treasure Ship: The Legend and Legacy of the S.S. Brother Jonathan (The Maritime Series of Sea Ventures Press): Powers, Dennis M.


Amazon.com: The Treasure Ship S.S. Brother Jonathan: Her Life and Loss, 1850-1865: Bowers, Q. David
1996 Popular Science Magazine

1996_June_Popular_Science Magazine Secrets of the Great Lakes p. 92-96
1997 Research Paper on Red King and Tanner Crabs
Distribution of red king crabs and Tanner crabs (PDF)
2003 NURP Logo for coral reef research diving expedition.
2004 Historical Diver Volume 12 Issue 4 Pages 27-30


Historical_Diver_Volume_12_Issue_4_P27_30 article, 2004
2005 Christmas Tree Corals: A new Species of "Black Coral" Found on the Southern California Bight
A New Species of Antipatharian Coral (Cnidaria: Anthozoa: Antipatharia) from the Southern California Bight research paper, D. M. OPRESKO
The species, Antipathes dendrochristos new species, forms large, multi-branched, bushy colonies that can reach a height of 2 m or more. The species is characterized by having small branchlets arranged primarily bilaterally and alternately, but in varying degrees of regularity; by small conical spines less than 0.1 mm tall, and by small polyps usually less than 1.4 mm in transverse diameter. The species occurs in colors of white, orange/gold, pinkish-orange, pink, red, and red-brown.
Necklace and Earrings made of Antipatharia recovered from Delta dive #5850 (656 ft.)
2006 Delta Photograph

Digital Photograph of "Delta", by Eric Curry, 2006
This was taken at Paramount Roll and Forming of Santa Fe Springs. Which is where the flat plate of A515 Gr. 70 steel was rolled into the main hull. Here are some comments by Eric regarding the photograph (click here ->) 2006_Eric_Curry_Message to Viewers
2007 Cordel Bank National Marine Sanctuary
Exploring Cordell Bank National Marine Sanctuary - YouTube video, 5/14/2007
2008 Twenty Years of Research on Demersal Communities Using the Delta Submersible in the Northeast Pacific
Mary M. Yoklavich, National Marine Fisheries Service, Southwest Fisheries Science Center, Fisheries Ecology Division, Santa Cruz, California

Victoria O'Connell, Alaska Department of Fish and Game, Commercial Fisheries Division, Groundfish Project, Sitka, Alaska
2013 Reactions of fishes to two underwater survey tools, a manned submersible and a remotely operated vehicle
Thomas E. Laidig, Lisa M. Krigsman and Mary M. Yoklavich
Reactions of fishes to two underwater survey tools .PDF research paper, December 2103
"Delta" Dive Logs
Excel Spreadsheet - Nekton/Delta Submarine Dive log
This spreadsheet contains the Dive number, location, depth, time, pilot and observers name
Use the spreadsheet to search for a particular dive then you can find it in the .PDFs below for the full details of the dive.
Delta_Dive_Log_Dive_1_to_120
Delta_Dive_Log_Dive_121_to_240
Delta_Dive_Log_Dive_241_to_360
Delta_Dive_Log_Dive_361_to_481
Delta_Dive_Log_Dive_482_to_599
Delta_Dive_Log_Dive_600_to_719
Delta_Dive_Log_Dive_720_to_839
Delta_Dive_Log_Dive_840_to_959
Delta_Dive_Log_Dive_960_to_1079
Delta_Dive_Log_Dive_1080_to_1199
Delta_Dive_Log_Dive_1200_to_1306
Delta_Dive_Log_Dive_1307_to_1430
Delta_Dive_Log_Dive_1431_to_1550
Delta_Dive_Log_Dive_1551_to_1674
Delta_Dive_Log_Dive_1675_to_1798
Delta_Dive_Log_Dive_1799_to_1922
Delta_Dive_Log_Dive_1923_to_2038
Delta_Dive_Log_Dive_2039_to_2149
Delta_Dive_Log_Dive_2150_to_2273
Delta_Dive_Log_Dive_2274_to_2401
Delta_Dive_Log_Dive_2402_to_2521
Delta_Dive_Log_Dive_2522_to_2651
Delta_Dive_Log_Dive_2652_to_2687
Delta_Dive_Log_Dive_2688_to_2802
Delta_Dive_Log_Dive_2803_to_2923
Delta_Dive_Log_Dive_2924_to_3042
Delta_Dive_Log_Dive_3043_to_3162
Delta_Dive_Log_Dive_3163_to_3282
Delta_Dive_Log_Dive_3283_to_3402
Delta_Dive_Log_Dive_3403_to_3522
Delta_Dive_Log_Dive_3523_to_3642
Delta_Dive_Log_Dive_3643_to_3781
Delta_Dive_Log_Dive_3782_to_3901
Delta_Dive_Log_Dive_3902_to_4022
Delta_Dive_Log_Dive_4023_to_4142
Delta_Dive_Log_Dive_4143_to_4262
Delta_Dive_Log_Dive_4263_to_4381
Delta_Dive_Log_Dive_4382_to_4501
Delta_Dive_Log_Dive_4502_to_4643

The total known dives for the five submarines (Dolphin, Nekton Alpha, Nekton Beta, Nekton Gamma and Delta):
There are more dives but, the dive logs have either been lost, destroyed or cannot be currently found.

Submaray 425
Nekton Alpha 828
Nekton Beta 842
Nekton Gamma 1442
Delta 5874

Total: 9411 Dives!
Doug sold "Delta" and Delta Oceanographics to Marcio Troccoli.
Delta Oceanographics
22918 Mariposa Ave.
Torrance, California 90502
"Delta" current condition:
As of this posting "Delta" is non-functional and has had the ballast tanks removed (waiting to be re-welded back on) and cannot dive.
"Delta" Models
You can purchase and build yourself a working Radio Controlled (RC) model of "Delta"
It will actually dive. You can control the ballast, rudder, bow plane and propeller (Forward/Reverse) to dive and drive it around a lake or swimming pool.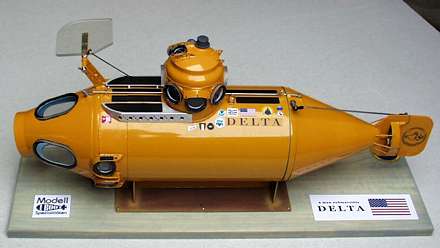 go to -> Modell-Uboot-Spezialitäten (modelluboot.de)
Click on "English version" at the bottom of the page, Click on "submarines" from the menu on the left, Click on Delta from the submenu.
They have four versions available: basic kit, complete kit, maxi kit and maxi plus kit.

On board camera Movie (3,6MB)

There is also a smaller (non-functional) model available on eBay:
Delta Mini-Submarine Submersible Mahogany Wood Model Large New | eBay

Cars
Doug bought this 1957 Ford Ranchero brand new and has owned it ever since.
He has restored it twice, the second time in 2017, it still runs and is in excellent condition.
Bicycles/Tricycles/Walking Machine

This is our Chopper bicycle that was built in approximately 1968

This is the tricycle that we built and considered going into production with.
A project that was started but never finished was a walking machine. Doug started it in approximately 1965 while at General Oceanographics and was a pile of various parts in a box. He never figured out the mechanism to go from a pedal and chain to moving legs, there were going to be six of them. It was sold with the Marfab shop contents.
Airplanes/Helicopters
Doug's first airplane was a Bellanca which he co-owned with Dave Walker and tied down at the Compton Airport.
The Bellanca 14-7 Cruisair and its successors were a family of single-engined light aircraft manufactured in the United States from the mid-1930s onwards.

Dave Walker (pilot) and Doug (co-pilot) were landing at Compton Airport when the landing gear collapsed. It was given to Long Beach College.
His second airplane was a Cessna 182 which he co-owned with Kurt Bourhenne.

Doug's Cessna, at the Cameron Park airport, Ca.
He was building his own airplane, a 1/20 scale replica of a B-17 Flying Fortress Bomber.
This was a 1/20 scale model of a B-17 that Doug built and intended to fly. The cockpit was just big enough for him to sit in and with a battery, motors and propellers he expected to be able to take off and fly. It was never completed and was sold with the Marfab shop contents.
Another project was a single place Scorpion I Helicopter that he built. He purchased the plans in the 1960's and always intended to build it, but it took him over 50 years till it was finally completed. He took several years of Helicopter flying lessons until he could actually fly one, he said that they were tricky. When his Scorpion I was completed, he started it up outside his shop, took off and hovered to about 3 feet off the ground, then landed and shut it down. The engine had a coolant problem and was overheating. It never flew again and was sold with the Marfab shop contents.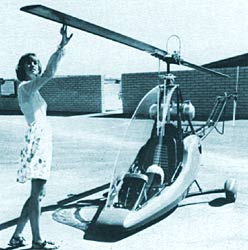 Ready for the first flight.
Scorpion homebuilt helicopters (vortechonline.com)
Passengers: 1; Length: 17'; Height: 6'; Width (cab): 2'; Rotor dia: 19'
Empty weight: 375 lbs.; Gross weight: 700+ lbs.; Payload: 425+ lbs.
Disc loading: 2.2 lbs/sf; Engine hp: 85 to 115 hp; Range: 160 miles
Speed (max): 95 mph; Speed (cruise): 65 mph; Service ceiling: 12,000'
Rate of climb: 900 ft/min
Airplane Products that were produced and sold by Marfab (Doug) and J-K Products (Kurt Bourhenne)
All of these products were originally built for themselves to use on their Cessna 182. They liked them and decided to go into production to make some money.
Airplane Throttle Lock
A fellow Pilot, Mike Rust, was instrumental in getting this product started. It was very sturdy (thick) to prevent anyone from trying to cut it off. It was easier for the thief to just go on to the next airplane than try to get it off. Once Doug and Kurt finalized the initial prototype, Manufacturing and Sales was done by the two of them. Whenever they flew to different airports, they would show and sell them to the Fixed Base Operators (FBO).
The product was sold (including all the inventory and tooling to produce) to a business wannabe, but they never heard from him or saw any locks ever being sold since.

Their Throttle Lock installed on their Cessna 182
Doug was also working on a throttle lock design for the Robinson 22 Helicopter, but we don't think he ever finished it.
Airplane Wheel Chocks
Their version included engraving of the Tail Number on them, which was a great selling point as it kept the theft down. The thief would be advertizing who they stole them from! (since the number wouldn't match their airplane)
Airplane Tie Downs
Originally designed by Kurt Bourhenne, but the manufacturing was processed in both the J-K Product and Marfab machine shops. it was simple, easy to use and worked well.
It was eventually sold to Aircraft Spruce & Specialty, and you can still buy them today: Hook -N- Pull Tie Downs | Aircraft Spruce
Doug was always very "Thrifty"
Doug would never throw anything away. He would rather fix something than discard the old one and buy a new one. He would say "there is still a lot of life left in this." For example his regular car was a Honda Civic (again purchased new) that he drove till it almost died, then restored it and continued to drive it for many years, it became a classic. He finally got rid of it when Jaunita passed away and he started driving her Honda Accord, he no longer needed the Civic so he finally sold it.
Doug would dumpster dive at his shop and pick out the "good" things his neighbor businesses were throwing away. He took any metal he could find and would sell it for scrap, he actually made some money. He would keep nuts and bolts, motors, parts, metal, fittings, tools, electronics, etc. anything that was "still good" and that he might find a need for in a future project. The only things he threw away were things that could not be scrapped and couldn't be potentially repaired.
He once found a battery powered wall clock that didn't work. He took it apart and put in a second battery to double the voltage to the motor and it started working. He put it up on the wall in his shop so he could see what time it was. Doug had enough parts and supplies in the storage area in his shop to work on almost anything and a lot of that he found in the dumpster. Even his shop neighbors would drop off their discards in front of his shop so he wouldn't have to dumpster dive.
Other Related Information

To Tell the Truth
(125) To Tell the Truth (1980) - YouTube video, TV Show with Rich Slater as a contestant
---